Gordon McDonough's Home Page

Welcome. Here you will find sections about my art, my work with the InterPlanetary Water Rocket Society, bubble screens and possibly other facets of my life. I am an artist and educator living in Los Alamos, NM. U.S.A.

Brought up in Concord, Massachusetts, I went to the University of Miami, receiving my BFA in painting in 1973. Besides Concord and Coral Gables, I have lived in Fort Collins, Colorado (1977-79), Madison Wisconsin (79-82), Somerville Mass. (82-85), Santa Fe (85-2008), and since then in Los Alamos. I got my teaching license in 1999 and in six years taught fifth, eighth, and seventh grade science in the Santa Fe Public Schools.
I now work at the Bradbury Science Museum, part of Los Alamos National Laboratory, where I teach science with a team to school children visiting the museum or in a Science On Wheels van that we take all over northern New Mexico.
I have two kids, Alex (21 in 2008) and Vicky (19 in 2008), was married for many years, but am now single and devoted to my friendship with a remarkable, engaging woman. I ride a bicycle as much as I can, though I no longer race. I still make art. I thoroughly enjoy making Mechanical devices, wind operated objects, machines that demonstrate scientific principles, and equipment that supports my other artwork or teaching.

In 2003, I participated in a program called Adventures in Modeling sponsored by MIT and the Santa Fe Institute. I learned to program in a language called StarLogo, a descendant of the Logo program with turtle graphics that we taught kids twenty years ago. StarLogo is used mainly to represent decentralized systems and emergent behavior. I have had more fun working in StarLogo than I ever thought was possible. StarLogo is a free download from the site linked above. My own work in the language has been eclectic and broad in scope, occasionally marginally subversive to the philosophy of the software. I used it in my classroom regularly, and spent time each year teaching some of my students to write programs in StarLogo.

During the summer of 1998, I did some thinking about Titanic proportions.


I hope you enjoy your visit, write me e-mail or visit me on Facebook.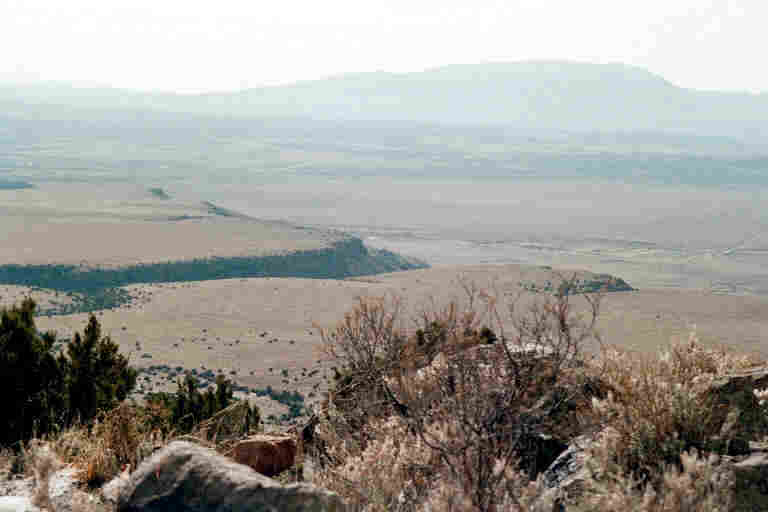 (Above) Santa Fe seen from La Tetilla Peak
(left) Sandia Peak in the distance over La Bajada, the escarpment south of Santa Fe. Photo from La Tetilla Peak. Both by GMcD. 2003

12/26/08